In our work and in our personal lives, we constantly deal with change. Believe it or not, people will always react to any change with some degree of fear or resistance. However, the timing of when people adapt to change is not consistent. Therefore, when your company considers a major digital transformation, you need to take into account both the changes and how/when the people will prepare for and deal with them. Ignoring the people element is a recipe for failure, ensuring employees will provide more resistance and take longer to adapt.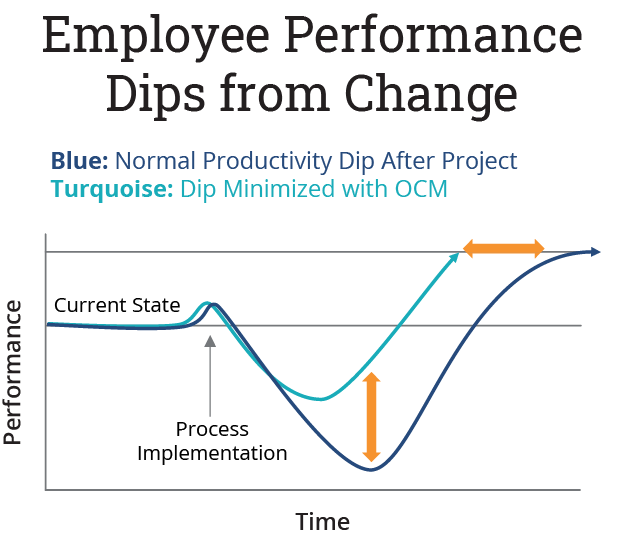 For example, a well-known company recently began working to replace one of its 30-year-old IT systems across teams that work directly with customers. Even though this was an opportunity to fundamentally change the company's operating model with improved technology, the organization kept resorting to simply replicating the same functionality and processes in the new systems. They didn't understand whether the existing functions were based on real business requirements or system limitations, and their employees were comfortable, even though the technology was ancient – literally still in "green screen" form. Since the workers were accustomed to the outdated technology, they feared changing it.
To drive real and lasting change, companies must garner significant participation from the people involved by adhering to the principles of organizational change management (OCM). Here are some activities that can help:
Information technology (IT) must partner with the business. While IT personnel are focused on driving technology change, they first need to understand what the business wants to achieve. IT resources don't always know the business. They should ask and learn what the teams do today, then build trust by communicating that the right functions will be delivered on a timely schedule. As they start to deliver, IT also should make sure the users can tell the difference between defects in the new systems and their own user error in adapting, so they can move the process along.
Don't just "lift and shift;" make improvements, too. IT needs to work with other employees to make sure it doesn't miss any true business requirements in the creation of a new system. Understanding "why" – not just "how" – things are done today, will help identify areas where real improvements can be made and prevent mere replication of the existing system functionality.
Think across departments and functions, including a focus on the customer experience. Transformation requires you to see and support the interconnectedness of the business. If you look at the big picture, then you'll be less likely to encounter departmental silos or scope creep. You'll also be able to better understand the upstream and downstream impacts of various changes, including impacts on your customers and the implications of tying back to legacy systems and data that need translation.
Apply good governance to the project, including to master data and process management. You want to ensure a "single source of the truth," so all stakeholders are looking at the same information. If you don't, then you may deal with duplicate and/or varying data across the enterprise, long lead times, and other issues. At some point, you need to lock down the system, articulate essential processes, and use a cross-functional team to govern with transparency. Be sure to give decentralized units the opportunity to provide input and stay up to date on progress and decisions.
Utilize your people with care. Help all team members visualize the future and prepare for the changes. Think of training as a way to help people feel confident and ready to do their jobs with the new systems. Don't ignore dedicated team members' perspectives. Make sure you ask for input and work with teams to provide solutions to real problems that may emerge. Change can require work well beyond employees' regular jobs, so be innovative in backfilling certain positions throughout the change process. Core knowledge from a few key individuals will likely be needed across many aspects of the project. Give people permission to work differently since you've been asking them to do the same tasks for years or even decades.
Encourage employees to think like customers. Employees have experiences as consumers that may help the company identify and participate in more innovative solutions, such as a more user-friendly website. Allow team members to bring their everyday roles as product and service users from home.
When making big changes at any organization, it's important that employees are included. They can ensure you don't miss vital business requirements and help identify improvements that will make the most sense for the organization's daily operations. They also can help you see the big picture across departments and functions. Make sure team members understand why the changes are happening and support them as they adapt. This investment in your people will pay off as you realize the benefits of change must faster.
Contact ISG's organizational change management team for more information to help accomplish your change goals.