What Is the 2G/3G Sunset?
Plans to sunset or retire second-generation (2G) and third-generation (3G) mobile networks are affecting organizations around the world. As a new generation mobile network is deployed, different mobile generations can coexist. But radio spectrum is a scarce resource licensed to a mobile network operator (MNO) by a prevailing government. When combined with the other costs of operating a legacy network (including an ever-diminishing user population), MNOs are highly inclined to retire such networks.
Sunsetting a mobile generation is quite an endeavor and requires regulatory approval. Today's fifth mobile generation (5G) has the ability to redeploy legacy network licensed spectrum to be used in conjunction with higher frequency 5G spectrums. This helps enable the promise of greater speed on 5G, while retaining the greater range of 2G/3G. In the coming years, demand for 5G, LTE-M and NB-IoT will further accelerate the sunsetting of remaining legacy mobile networks. With the release of 6G expected in 2030, the sunsetting process will begin again, this time starring the fourth mobile generation (4G).
The Impact of 2G/3G Sunsets by Geography
ISG Research shows that Europe has the highest percentage of 2G/3G network closures. The below graph provides a snapshot of regional technology sunsets.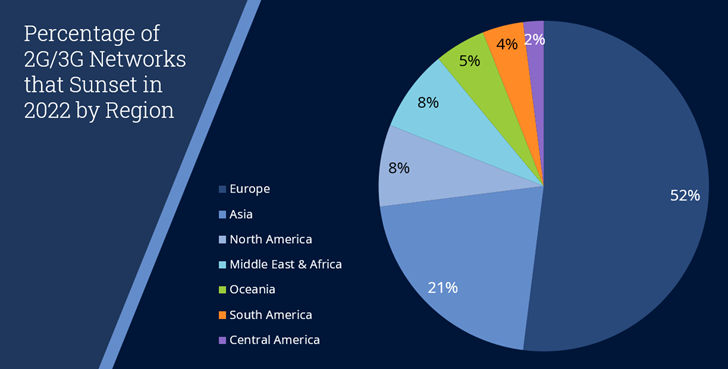 Here is a list of geographies that are affected by recent or soon-to-be mobile network sunsets.
United States – The major operators in the U.S. sunset all 2G networks at the end of December 2022. AT&T stopped servicing its 2G network in 2017 and its 3G network in February 2022. Verizon Wireless phased out its 2G CDMA network at the end of 2020 and its 3G network in December 2022. Sprint (T-Mobile) retired its 2G network in December 2021, with a shutdown its 3G network in July 2022. There are still over 30 other MNOs in the country.
Canada – In Canada, Telus Mobility sunset its 2G in 2017 and Bell Mobility sunset its 2G network in 2019. Rogers Wireless completed its 2G sunset in 2021 and its 3G on 1900 MHz sunset in March 2021 (but will continue its 3G support on 850 MHz until 2025). There are several other MNOs in the country.
Europe – In Europe, because of population density, 3G networks are expected to be decommissioned before the longer range 2G. Swisscom was among the first to switch off 2G in early 2021. Eight other countries are expected to follow suit and switch off 2G.
Asia – In Asia, 29 operators are estimated to sunset their 2G/3G networks by 2025. India plans to sunset 2G by the end of 2023. Vodafone sunset its 2G in 2022; Japan declared a nationwide 2G sunset in 2012.
Africa – Africa is often considered a "greenfield" for mobile network providers, evolving at its own pace based on each particular country, operator and subscriber base. The South African Government has plans to prohibit licensing of 2G devices as part of their next-generation radio frequency spectrum draft policy.
What Does 2G/3G Sunsetting Mean for Devices?
There are a plethora of devices and services that rely on older-generation networks and are feeling the impacts of 2G/3G sunsetting. These include personal health reporting, home security and automation to industrial equipment and real-time performance and autonomous operations. Many of the devices used in these sectors will be in service for decades to come.
Automobile – Many new cars made in the last decade, some even as recently as the 2021 model year, were built with connected services running on 3G. That includes location data, WiFi hotspots, emergency call services, remote lock/unlock functions, smartphone app connectivity, voice assistants and even concierge services; the SOS system and roadside alerts are network-based features that also can be affected. Vehicles released before 2019 by Toyota, Lexus, Nissan, Hyundai are susceptible to this sunset.
Medical devices – Many older medical devices rely on 3G mobile networks to communicate. To function on 5G networks, devices that send medical alerts will need to be replaced or upgraded.
Security devices – Security systems often run over cellular networks. Starting in 2016, 3G networks became the standard communication technology used in security panels. As traditional, copper landlines were being retired, there was a shift to wireless security systems that use cellular technology to relay messages. If an installed alarm system is based on a 3G-compatible communicator, it will no longer work properly once carriers begin to sunset 3G networks, regardless of the security provider. In such cases, the cellular communicator will need to be replaced to operate on the new networks.
The Impact of 2G & 3G Sunsets on IoT Connectivity
People often think of IoT as consumer devices like home automation or remotely accessible video that can run on WiFi. But, for industrial IoT, cellular connectivity plays an important role. 2G/3G sunsets will affect more than half of the IoT devices that rely on cellular connectivity. IoT fleets will need to invest in updated hardware and new technology solutions to keep their devices up and running.
Organizations are facing significant challenges in IoT adoption, including security, lack of experience and cost. And they are reluctant to make significant technology changes because of the uncertainty about security issues new networks will pose. Budgeting for migration is another pain point for organizations. Even with better technologies on the way, many IoT deployments have found cellular connectivity lacking for their needs compared to other network options.
How To Prepare Your Business for the 2G/3G Network Sunset
There is no doubt that mobile network sunsets introduce complexity to IoT operations. The first step is to determine which of your devices are still using either of the 2G or 3G technologies, replacement options and timelines for sunsetting by country.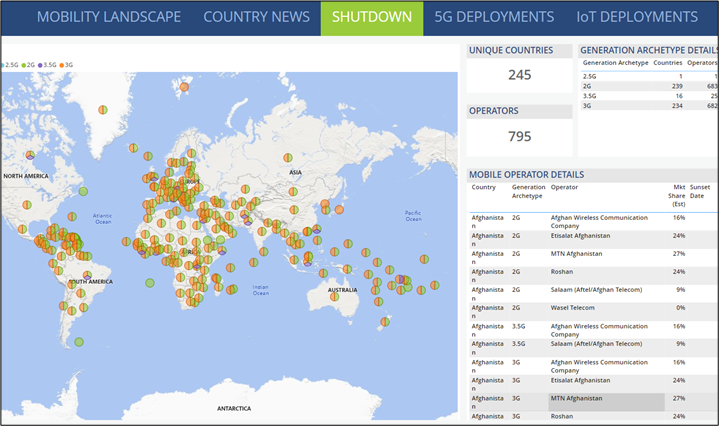 Figure 2: Example Screenshot of ISG Mobile Map
The ISG Mobile Map is an interactive application supported by a database of more than 1000+ mobile operators across 250+ countries, territories and protectorates. The ISG Mobile Map platform provides organizations with the visibility they need to plan and react to shifts in the global mobile network market and a database that tracks localized developments, including timing for new and sunsetting mobile technologies. The platform provides historical and futuristic timelines on when a carrier is undergoing 2G/3G sunset. For example: ISG's Mobile Map indicates that, in the next two years, 89 MNOs will shut down their 2G and 3G networks across 58 countries. That means any device, large or small, that does not have a newer 4G or 5G IoT radio embedded will stop sending data.
If you are a global manufacturer of connected products with an average service life of 10+ years and your products have embedded cellular capabilities and those devices are in any of the abovementioned 58 countries, you need to prepare for the fact that the devices will not send data within the next two years.
Knowing when these products will be impacted by mobile network shutdowns presents manufacturers an opportunity to make proactive upgrades. With the ISG Mobile Map, one major industrial client was able to plan replacement radio inventory by country and timeframe. This coupled with an active outreach program by the local service organization allowed the manufacturer to optimize its inventories for best effect, improving client satisfaction and ensuring machine operating data continued to flow. In many cases, the manufacturer was also able to upsell services to the client leveraging the new, faster radio technology.
The ISG Mobile Map Platform
Migrating to newer networks requires staff, planning, resources, time and the right technology provider. The 2G/3G network sunsets are imminent and are a direct threat to the devices and data generated and collected in the IoT industry. Organizations should avoid delays in making network decisions and migrating their legacy IoT devices. The ISG Mobile Map and our network advisors help organizations prioritize their tasks and set milestones through this critical transition.
If you would like to learn more about how ISG Mobile Map platform can help you prepare before the 2G/3G sunset takes effect, contact us for more details.