Enterprise Buying Interest in Intelligent Automation Jumps as COVID-19 Lockdown Progresses
COVID-19 has every business reevaluating its business operations, repositioning offerings to address current concerns and leveraging fear and doubt about the future in hopes of turning the economic crisis into a benefit. A visit to 20 of the top IT service providers' websites confirms that all have posted repositioning statements up front focused on COVID-19. Is this just for window dressing? Are their potential customers so mired in cost reduction and the necessary work of "staying afloat" that they are foreclosing all thought about new digital solutions for the post-COVID-19 world? Or are enterprises actively positioning themselves for a next-normal phase of distance working and potential recurrence of this virus or other threats?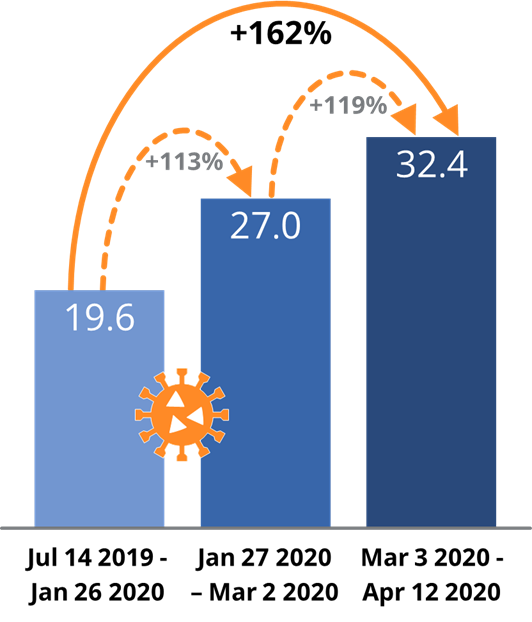 Figure 1: Increase in average buyer intent for automation between June 2019 and April 2020
Robotic process automation (RPA) is a notable example to consider. The promise of a digital backup to a vulnerable human workforce seems appealing in the abstract – and, while some companies have automated some tasks, there is much opportunity in the operations marketplace still untouched. Vendors and service providers are responding to that opportunity with investments in messaging on their immediate solutions.
Are prospects listening? For that answer, we turned to ISG's buyer intent analytics, which measures the aggregate online research of individuals searching and reading content about RPA. This approach provides an intent score, ranging from 0 to 100, indicating where enterprises are in their buying journey. By aggregating intent scores across searchable data, a trend line results for the RPA total addressable market.
Our data show a dramatic increase in intent for buying RPA as the global concern around COVID-19 peaks. Far from showing that companies are backing away from automation initiatives, the data instead show companies have understood that automation is essential to survival during the current economic crisis. These companies are preparing for the future during this time of crisis. Competitors should consider their positions in the post-COVID-19 era. The company that is digitizing and automating now will be ahead of competitors who have not.
The takeaway? Companies that fail to address the vulnerabilities of a human workforce during crises by considering ways they can deploy intelligent automation are putting themselves as a competitive disadvantage now and raising their risk for the next global event. Most large enterprises are busy working on these solutions now.

Figure 2: Average Intent Score of Accounts > $500M in the RPA Category. Source: ISG Research, April 2020, n=~500 companies, US and Canada.
Chart details: average intent scores of 518 addressable accounts in the US and Canada with annual revenue over $500M. ẋ is average intent core during the period, s2 is standard deviation of intent score, b is the slope of the simple regression line, and h is the sample size.

About the author

Kevin Blackwell leads ISG's product technology platform strategy, which brings the wealth of ISG experience and intellectual property to customers through industry-leading technology solutions. Kevin has 30 years of experience in software application and infrastructure development spanning hundreds of customer implementations in big data analytics, middleware, retail analytics and innovation management.