Artificial intelligence (AI) stands out as an especially transformational technology of our digital age—and its practical application in addressing process inefficiencies in different business settings is increasing at a pace that is well beyond most companies' ability to adopt it at enterprise scale. Current applications of AI are in limited functional operations. And, while there is substantial potential in the next wave of AI innovation, organizations must first figure out where and how they can apply AI to specific business problems across operations.
To usher in this next wave of digital innovation, C-Suite executives will need to apply design thinking methods to create the cross-functional coordination and mid-manager sponsorship required for enterprise adoption. Ultimately, the value of AI is not to be found in the AI operating models themselves, but in companies' abilities to harness them.
Design thinking principles introduce proven methods to achieve cross-disciplinary pollination that encourages employees to question, observe, network and experiment in an environment that diminishes hierarchy, eschews ego, challenges the status quo and encourages smart risk-taking. Executives who promote design thinking in their organizations can accelerate AI adoption, achieve organizational alignment and drive commitment to their goals while reducing resistance to organizational change. Design thinking practices make it possible for companies to pivot quickly when market conditions change because alignment around a core set of agile decision-making principles are already embedded in the culture of the company.
Using design thinking principals to accelerate enterprise adoption of AI requires five organizational shifts: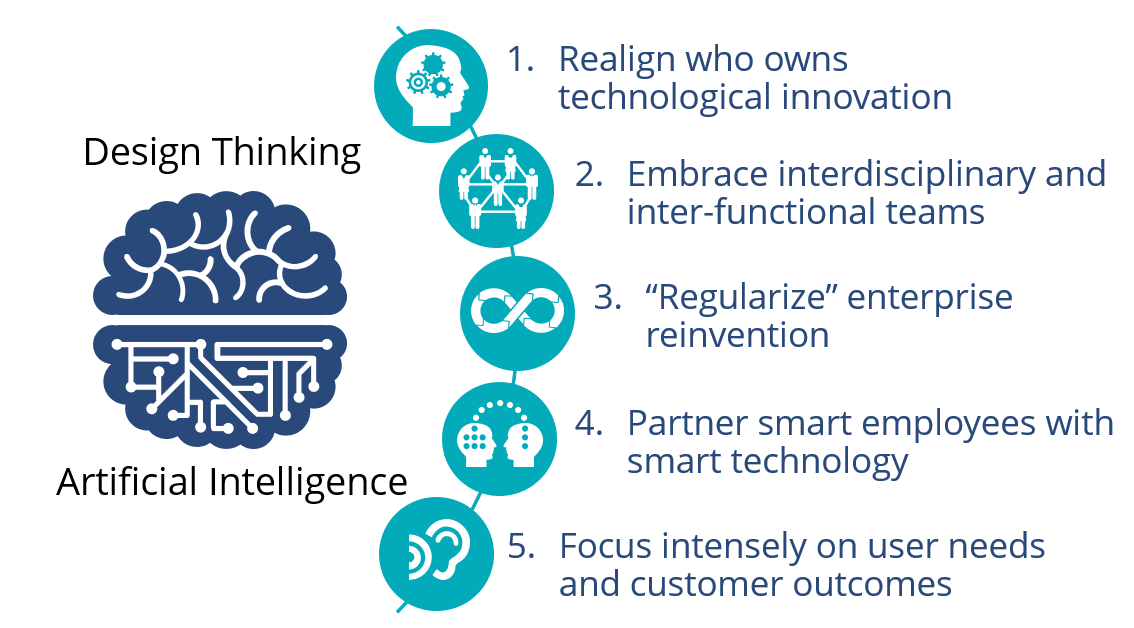 Realign who owns technological innovation. At many companies, innovation is the purview of the technologists. They come up with an idea, and they "run it up the flagpole." Design thinking turns that notion on its head. It asserts that responsibility for innovation runs across an organization and is best accomplished by interdisciplinary teams with an end-to-end view of organizational impact. In today's enterprises, AI is not the brainchild of IT; business unit leaders are promoting it at the business unit level by seeking to achieve the quarter-to-quarter profit target relegated to them from on high. Your first step is to embrace business unit, functional and change leaders who best understand their operating challenges. Let IT know its new role is not to own AI but to enable other groups to experiment, test, prove and deploy it.
Embrace interdisciplinary and inter-functional teams. Design thinking brings technologists together with executives, analysts, risk management, compliance, audit, operations, sales and customer-facing advisors in a forum that drives new ideas and customer centricity. These teams become inter-company and inter-business unit ecosystems that share learning across the enterprise, along with costs and risks. A strategy for enterprise adoption of AI based on design thinking pushes an organization beyond the implementation of a Center of Excellence (CoE), which can become a bastion for sequestering knowledge, inhibiting innovation and creating unhealthy internal competition.
"Regularize" enterprise reinvention. Making reinvention and change adoption a regular and normal occurrence helps a company scale its existing AI offerings and solutions, rather than always looking ahead to the next big thing. Organizational change is mostly feared because leaders reshape the destiny of their companies by engaging managers and supervisors in strategic planning exercises that limit participation and withhold information from employees. The result is fear and resistance. What if broader participation in design thinking practices was encouraged so employees were engaged in shaping their destinies in the context of the organizational shifts required to sustain an organization's competitive market position? This is how leaders can turn resistance and other change barriers into competitive advantages.
Partner smart employees with smart technology. The next-generation hybrid digital workforce – humans and robots empowered by AI and other cognitive technologies – will be able to combine multiple types of work environment applications with real-time data analytics. They will not be enabled by technology, they will be enabling technology and managing the AI co-digital workforce configured to improve predictive decision-making that aligns products and services to customer needs. If this sounds like a brave new world, it is, and it requires adoption of design thinking principles as a pre-requisite.
Focus intensely on user needs. Core to design thinking is the end-user experience. In most cases, clients themselves wind up becoming a vital part of the design-thinking process. This may take the form of advisory panels, pilot programs or surveys to elicit feedback from end users. Consider setting up a conference room to simulate the experience of working with AI-enabled digital workers, visiting other business units or companies to see how design thinking teams interact or using a third-party advisor to facilitate the design thinking environment. Working with end users provides immeasurable value in improving or developing the next service, product or customer experience.
So, what can you do to introduce design thinking into your digital transformation initiatives? Here are three recommendations:
First, conduct a self-assessment. Is innovation in your organization product-centric or user-centric? Are participants from multiple disciplines involved in representing the user viewpoint? Are you creating environments that encourage and reward the adoption of new design, development, testing and deployment processes?
Second, select a reasonably high-value project and a team to approach it with the design thinking framework. Reduce risk by making sure the proposed outcomes are well defined, so you can measure the impact effectively. Observe how design thinking changes the team dynamics, innovation and results.
Third, when design thinking demonstrates value in one project, consider expanding it across a business unit, multiple functions or even across the enterprise. Share small successes, case examples and shout outs across the organization. Identify change agents who demonstrate a knack for design thinking and use them to facilitate other teams.
ISG helps enterprises drive collaboration across functional and organizational silos to achieve outcomes and compete in the new digital economy. Contact us at isg-one.com to find out how we can help you.