For sourcing relationships to be effective – that is, for them to be the kind of relationships that enable an enterprise to compete in today's dynamic business environment – they must have governance structures that support enterprise agility and sound decision-making.
Creating these kinds of strategic relationships requires a foundation built on daily practices that capture appropriate data and track relationship health. It also requires a big-picture understanding of the market and a real sense of the opportunities for new ways of doing business. When an enterprise brings together data from the day-to-day supplier management activities with data from the wider industry, the business itself and the provider market, it can paint a detailed picture of the sourcing relationship and its potential for improvement. The graphic below shows both the fundamental and strategic layers necessary for effectively managing suppliers.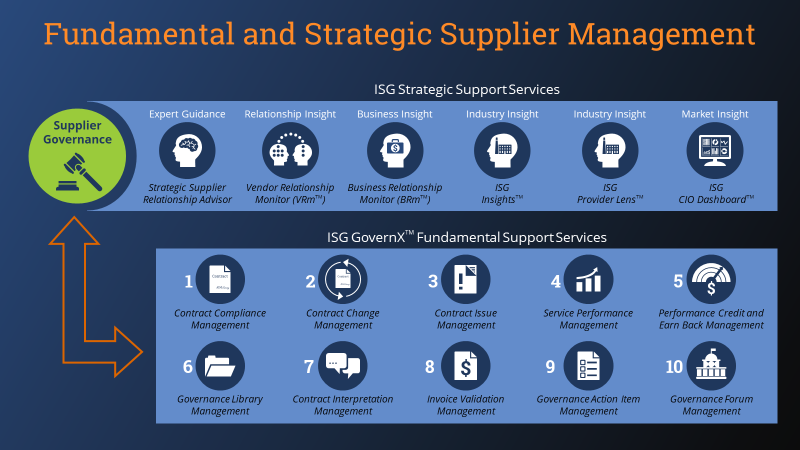 Carrying out the fundamental activities associated with complex supplier relationships can be manually intensive and expensive. Even when enterprises believe they are spending a good deal of time and money on it, most are underinvesting – and most are unaware of the value they are losing.
Here is a checklist for the top ten ways to make the most of your investment in your suppliers and your enterprise's entire provider ecosystem:
Manage contract compliance. Many enterprises fail to understand that they need to play an active role in making sure their suppliers live up to their expectations. For example, if the contract states "the supplier will submit a Certificate of Insurance (COI) on an annual basis," the enterprise client must make sure this commitment is fulfilled and document the evidence of completion. Communicating expectations allows both parties to demonstrate commitment and accountability to each other. In essence, ensuring compliance with the contract builds trust, which is the number one trait of a sustainable relationship.
Manage contract change. Long-term relationships require flexibility and responsiveness to dynamic business needs. Effective change management administers changes in the contract – from requests through redlines to approval and execution – and updates commitments as required. If changes aren't tended to, both parties achieve less.
Address contract issues. All relationships encounter issues. A healthy relationship identifies them early and addresses them fairly and constructively. When the enterprise captures, addresses and resolves issues at the appropriate level, the relationship benefits from transparency, open communications and closed-loop resolution.
Stay on top of service performance. Access to complete and accurate information regarding performance allows stakeholders to monitor services and determine if changes are required. The integrity and accuracy of performance data is paramount to effective decision-making. Automating and visualizing performance data can make what has been a Herculean effort into an accomplishable and routine task.
Apply performance credits and earn backs. Applying performance credits and earn backs is a common way to promote appropriate supplier behavior – and it has shown to work! The catch is to make sure credit and earn back rates are properly reflected in the invoice. Misrepresenting this can lead to confusion.
Create a governance library. A governance library should contain a record of all communications and artifacts (i.e., deliverable evidence, meeting minutes, issues and actions) associated with a contract over its lifecycle. When relationship stakeholders have this single source of truth, they can eliminate the wasted energy of reconciling differences based on inaccurate or incomplete information and gain the transparency they need to make fact-based decisions.
Carefully interpret the contract. Misalignment due to contract misunderstandings between stakeholders can occur – especially in the early stages of the relationship. Securing a perspective and point of view from a trusted third party can shorten the time and effort required to get back on the same page and prevent future issues.
Manage invoice validation. Service charges can be complex and prone to errors or inaccurate billing. You need a fool-proof way to validate that calculations and invoices match your agreement. Verifying supporting data and then rapidly detecting and addressing discrepancies will help the relationship run more smoothly.
Manage governance action items. Governance is at the heart of steering the relationship, and governance actions are the vehicles for ensuring necessary course corrections. Proactively aligning, assigning and communicating about action items is essential to ensuring the relationship and services stay on course.
Create a governance forum. A governance forum should provide a set of guiderails to keep everybody moving in the right direction and provide the carrots and sticks to foster innovation and appropriate investment of time and energy. Ensuring the fundamentals of supplier management as detailed here is critical to making the most of your sourcing investment; when the governance forum makes sure the management activity is transparent for all stakeholders, the benefits grow exponentially.
Without the appropriate governance structures in place, an enterprise will see inconsistent performance across supplier relationships. Sure, there are pockets of excellence, but if the right supplier management fundamentals are not initiated from the onset of a relationship, it is increasingly difficult to incorporate them as the relationship develops – the most likely time being during a crisis, which is far from optimal.
ISG has a comprehensive digital solution powered by ISG GovernX® to help enterprises better manage their supplier relationships. ISG GovernX® is a groundbreaking digital managed services solution that allows you to monitor contract performance as services are delivered, address issues on the spot, mitigate risk, ensure regulatory compliance, and foster greater collaboration among your suppliers for better business outcomes. Contact us to discuss further.