ISG research and on-the-ground experience shows that most enterprises implementing robotic process automation (RPA) don't know where they are in their journey today, how they compare to their peers, how ready they are to level up their capabilities or how to do so. To help enterprises know where they are and what's next on their automation journey, ISG uses a four-tier framework (Figure 1).
Figure 1: ISG Bot Framework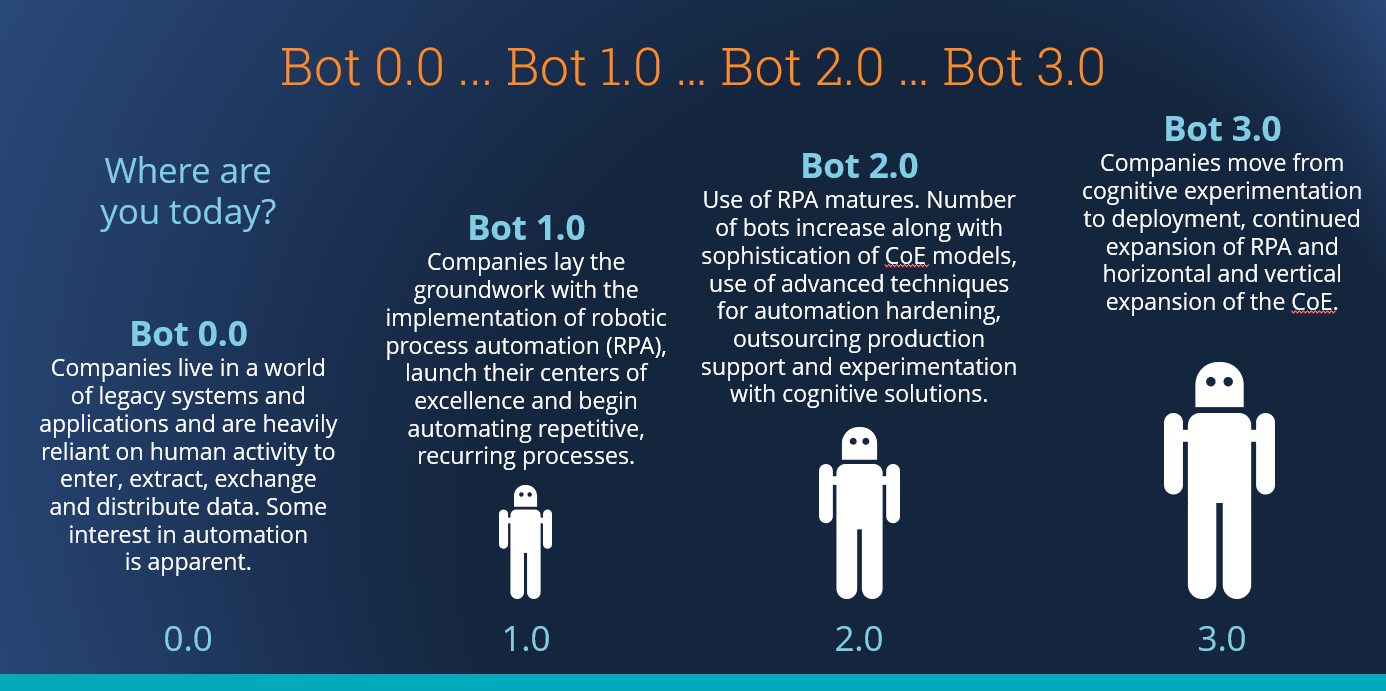 Source: ISG Research

Enterprises that use this framework to segment bot capabilities gain a clear view of where they are and where they should be headed. Those next steps lead to what we call the Bot 3.0 target state.
Bot 3.0 looks like this:
Scaling automation and digital implementation across the enterprise. Many automation projects start small and in one pocket of an organization. Achieving the best results requires expanding into other processes and departments.
Organizational alignment through operating model structure, defined roles, responsibilities, staffing levels, skills and expertise. Beyond implementing RPA technology, expanding automation requires aligning the whole company with an enterprise's roadmap.
Defined governance framework. An automation strategy involves proper governance, aggressive organization change management and a rich set of best practices. This allows rapid innovation by enabling teams to move faster with automation while remaining compliant with an organization's needs.
Correct tools and technology. To scale and extend automation, enterprises must ensure they have the right technology assets. At Bot 3.0, enterprises are using artificial intelligence to augment their automation and building more complex systems.
Best practices, processes and techniques to leverage business and technology assets. Enterprises must define best practices for ensuring that their automation projects and teams use the assets available in the business.
Understanding of major impacts and potential investments. Automation projects can't succeed in a vacuum. Enterprises should look at what changes are likely and where they might invest to mitigate risks.
In a session at the recent ISG Digital Business Summit, we spoke with several providers and enterprise clients about their automation journeys and how they use RPA tools. The consensus was that three factors are most important in figuring out how to reach the target state:
An automation roadmap. It's critical that enterprises imagine their future and understand how automation fits into their strategy, rather than taking an ad hoc approach. An automation roadmap helps align all the stakeholders within an organization to provide a framework for applying new technology. This should be a living strategy document that evolves with each organization's needs.
A way to evaluate automation opportunities. Intelligent evaluation of automation opportunities will provide organizations a better understanding of how to prioritize and implement RPA in a way that best benefits their business.
An automation center of excellence (CoE). The CoE is the nucleus for automation innovation within an enterprise and can develop the needed technical and organizational infrastructure for success. As an enterprise matures, that CoE should scale out its work across the business.
Another key takeaway from DBS attendees is the importance of evaluating the potential challenges and hurdles ahead in an automation project. Common ones include:
Trying to boil the ocean. Rather than create a massive automation system all at once, enterprises should tackle small task automation projects that conform to their overall roadmap in an agile manner. Trying to automate through a single large project adds far greater risk of failure.
Misalignment with line-of-business needs. While technical teams may see opportunities to automate processes in a line of business, it can be difficult to convince stakeholders in those teams to adopt automation if it improves processes that don't appear to be "broken" or overly difficult.
Join us at the upcoming ISG Automation Summit in London, September 12-13, to learn about how RPA and cognitive technologies create competitive advantage by improving processes in areas such as customer service, enhanced back-office operations and warehouse management. We'll share strategic guidance and practical advice about the promise and peril of automation and digital labor, and their implications for the workplace.