We've become a generation of DIY travelers. We plan, manage and book our own travel online – and technology has made it all possible. The rate of technological change and increasingly savvy consumers present big challenges for travel and hospitality IT organizations. Foremost among them are how to:
Transform to an DevOps organization
Provide a secure and compliant environment
Align with the business to enable a digital experience.
Customer expectations in the travel and hospitality industries are especially high due to digital access to information, social networking platforms and the Internet of Things (IoT). To meet the demands of this new kind of customer, companies must adopt an operating model that is relentlessly customer-centric. This means building IT capabilities from both the inside out and the outside in with the customer in mind. The graphic below illustrates this inside-out and outside-in dynamic.
ISG Digital Framework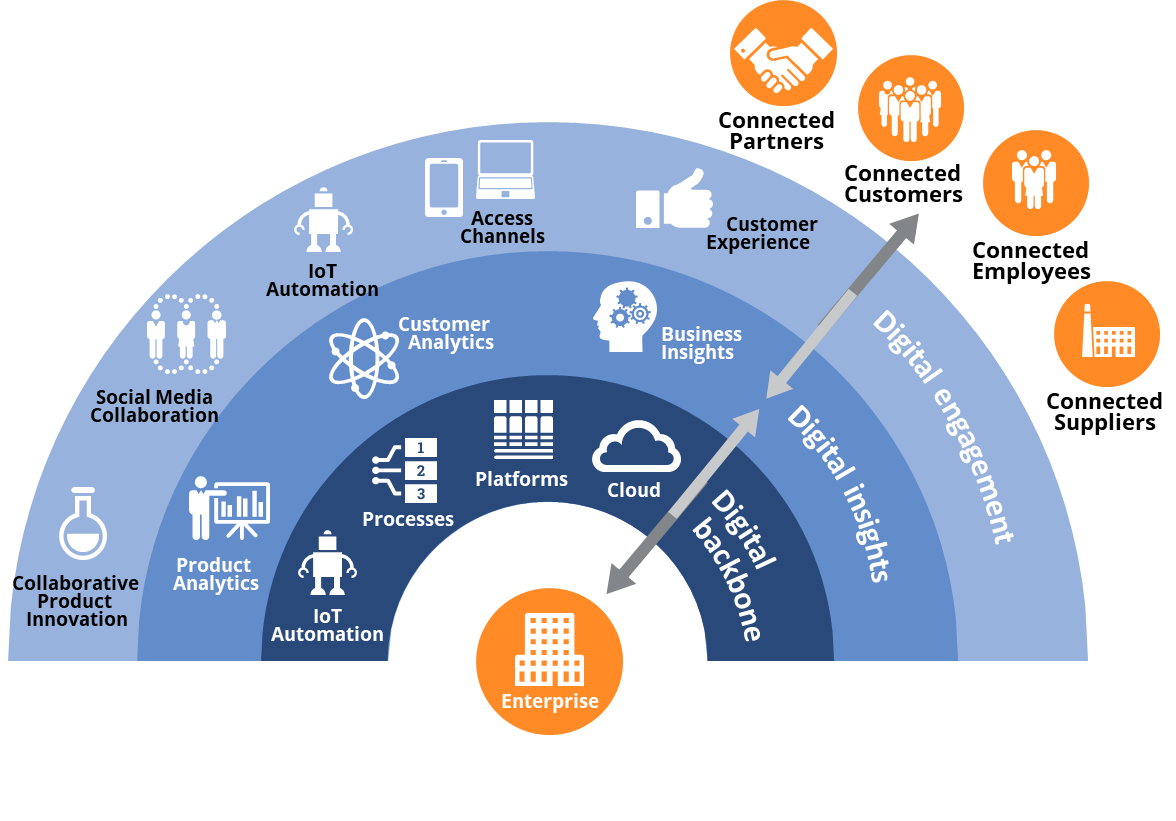 Building a Digital Backbone
Being customer-centric starts with delivering next-generation IT capabilities and services inside the organization. Travel and hospitality enterprises that plan to become more customer-centric will make the following changes:
They will adopt an omni-channel commerce platform that addresses customer journey needs and drives organizational shifts and investment strategies in platform technologies that are cloud based, AI-enabled and composable. They will figure out how to put data analytics to good use.
They will build a seamless omni-channel customer experience by investing in a digital workfoce that helps break down digital-physical engagement silos. DevOps will be the primary delivery mechanism.
They will crowdsource innovative ideas and deliver business outcomes even faster.
They will adopt robotics process automation to optimize operations, remove complexity and uncover new efficiencies in back-office processes.
They will use cognitive automation and artificial intelligence (AI) technologies to answer questions and provide services to passengers and guests.
They will embrace managed services and AI-based cyber-defense technologies to combat the growing threat of cybersecurity breaches.
They will begin to educate themselves into the potential of the decentralized blockchain and understand its value in areas such as data security, logistics, process simplification and regulatory compliance. They will start by using blockchain technology to manage frequent flyer and loyalty programs and track baggage.
Increasing Digital Engagement and Insights
Creating compelling, engaging customer and stakeholder experiences requires companies to re-imagine almost everything about the way they connect, transact and engage with customers. Customer-centricity will look like this:
Companies will use cognitive computing to increase productivty and inform the way they make operational decisions.
They will invest in analytics to leverage digital, mobile and social insights to spot growth opportunities and gleen competitive insights that connect customer journey events.
The will begin to experiment with technologies such as the IoT, augmented reality and voice-enabled digital assistants to enrich product selection and employee and customer engagement.
They will allow passengers to redeem frequent flyer points or miles for in-flight purchases to increase revenue, brand awareness and customer loyalty.
As passengers and guests expect increasingly personalized services, travel and hospitality enterprises will need to plot their path to improved internal operations and customer engagement. Cognitive computing, RPA and DevOps will be essential vehicles for getting there. Contact us to learn more.