As 2019 came to a close, many HR leaders found themselves asking, "what's next?" Adoption of human capital management (HCM) software-as-a-service (SaaS) has been on the rise, and many organizations have been busy implementing new technology platforms, with some well into a steady state, leaving leaders feeling like they had already tackled a fair amount of HR transformation. When the pandemic hit, HR leaders were just beginning to examine their strategies for optimizing the employee experience, increasing automation and continuing the shift toward digital and virtual collaboration. Suddenly, organizations found themselves scrambling to adapt to managing and support a fully remote workforce. Concepts that were considered emerging HR trends suddenly became requirements for the "new normal."
HR service delivery is built on four foundational pillars: people, process, technology and governance. In the HR organization of the future, each of these pillars must evolve to allow the organization to adapt to the new external environment and the ever-changing needs of the customer. From a people perspective, organizations need to upskill their resources and shift to more agile, iterative ways of working. The agile HR organization will be underpinned by integrated governance structures that bring HR, Finance and IT together to cohesively monitor and meet the needs of the business. Real-time, integrated data and analytics will be critical to enable decision-making. But before HR can make this shift, organizations need to establish a strong technology and process layer.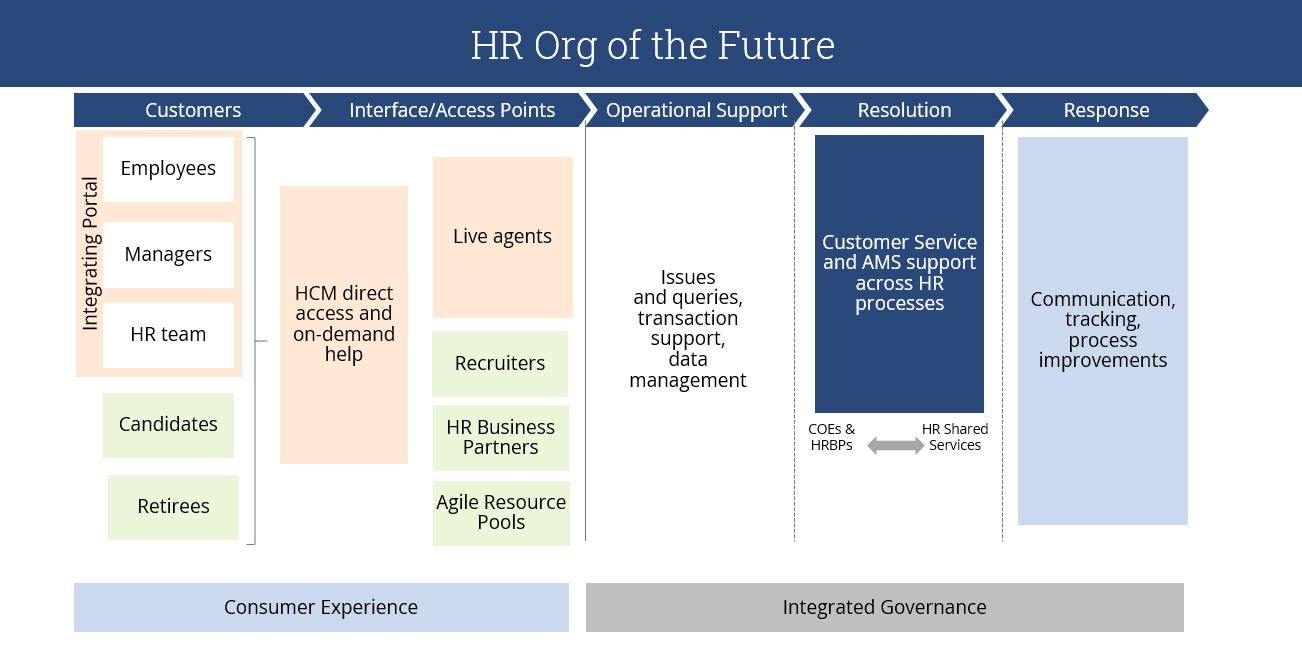 The Employee Experience
The next evolution of HR service delivery will be heavily focused on optimizing the employee experience. From a process perspective, the conversation centers on empathy for the customer and designing end-to-end processes that link to the "moments that matter" in employees' lives. The pandemic has blurred the lines between work and home and made the link between HR processes and our personal experiences and milestones more critical than ever. Customer empathy is even more top of mind as companies contemplate how to safely bring people back to the office or digitally enable employees who continue to work from home. Identifying cross-functional process links, such as those between health and welfare benefits processes and health and safety processes, is becoming a critical component of process optimization initiatives.
Organizations have been experimenting with agile and design-thinking methods to create journey maps focused on customer empathy and streamline and link processes in ways that create a more holistic experience for the employee. With these end-to-end processes in place, companies can use technology platforms to design "nudge content" that prompts employees to take appropriate action in a timely manner. Simple, proactive calls to action can be used across HR – for example, proactively encouraging employees to contribute to retirement investment accounts, or reminding employees to ask their managers basic career development questions that can be linked to learning and development plans.
HR Technology Strategies and Platforms
As HR processes become more fluid and holistic, companies must continue to update their HR technology strategies and platforms. First and foremost, HR technology platforms must evolve to address the employee experience. The demand for digital collaboration reaches beyond simply enabling employees to connect across geography. While we could once walk down the hall to provide real-time feedback to a co-worker or ask an HR business partner a policy question, now we must be able to connect virtually and find information online. The need for real-time feedback and connection is stronger than ever, and digital enablement is the key to continuing and enhancing that experience.
Leading HR technology vendors are experts at providing strong transactional interfaces, and solutions like Oracle's HR Service Center and Digital Assistant and Workday's Workday Assistant and People Experience are early versions of the vendors' responses to market demand for improved employee experience. Still, employee experience remains a gap for many HR technology platforms and HR organizations, and we expect to see organizations continue to turn to experience suites like Salesforce and ServiceNow to link together portal, knowledgebase and CRM tools to provide a cohesive and consistent experience. Other components of the HR organization of the future will include a broadening of multi-channel access beyond traditional email, voice and chat to include mobile, RPA and AI. New access channels including text, chatbots and virtual assistants are quickly becoming standard components for HR service centers, and some companies are migrating away from phone as a channel altogether.
Data and Analytics in HR
The other priority for both HR leaders and technology vendors is data and analytics. Much like we are seeing from a process perspective, there is a need to connect data cross-functionally to deliver valuable analytics to the business. With cloud HR technology platforms already in place, companies are beginning to tackle their financial ERP platforms to move them in the same direction. We continue to see innovation from leading HR technology vendors when it comes to cloud ERP solutions, and as companies make large technology investments in new financial platforms, it will be imperative that they link the data from their HR and Finance systems in meaningful ways so they can fully reap the benefits of their technology investments. Governance will be an essential part of making this successful in the HR organization of the future.
Optimizing the employee experience, designing end-to-end processes and marrying data to create powerful analytics are essential to building a strong foundation for the HR organization of the future.
Is your company on its way to building the HR organization of the future? Contact us to discuss how ISG can help your organization develop an HR strategy for thriving in the "new normal."

Read The HR Organization of the Future Part 2 – Becoming an Agile HR Organization here.