If you're an HR leader, you've likely seen market research, articles and survey results that say moving your HR technology platform into the cloud is inevitable, and you've probably taken steps to ensure your HRIT and HR Operations teams are preparing for such a move. But implementing a cloud-based human capital management (HCM) platform has broad impacts, and HR business partners are one of the most important stakeholder groups. Organizations often wait too long to involve HR business partners and miss a prime opportunity to win buy-in for the new system.
A new HR technology platform will impact everyone from line managers to the C-suite, bringing new tools, new ways of working and access to more information than ever before. Recent market trends indicate that many companies don't have the budget or business case for a high-touch call center to support a new HR technology system, leaving HR business partners as the front-line support for people learning to use the technology.
HR business partners have a unique familiarity with the strengths, challenges and needs of your business, which means they also bear responsibility for understanding what a new technology platform will mean for their stakeholders – and for ensuring that the technology and processes meet the needs of the groups and individuals they support. By engaging your HR business partners early and keeping them involved throughout the entire project, you will increase their opportunity to become champions and experts in the new system, which in turn increases the chance of a successful deployment and higher end-user adoption rates.
In addition to being champions of change, HR business partners also are recipients of a change in technology. Often, the business case for deploying a new system is to change the service delivery model to gain efficiency, which can shift an HR business partner from a transactional role to a consultative role. In a pre-Software-as-a-Service (SaaS) world, HR business partners may be spending a fair amount of time processing transactions and running reports. With the rollout of SaaS programs that allow for increased employee and manager self-service, HR business partners will focus less on transaction processing, and more on driving adoption of self-service by the employees, managers and leaders they support.
HCM SaaS platforms provide robust reporting capability and often allow organizations to consolidate data that previously resided in multiple systems. After an HCM implementation, HR business partners can use the new reporting and analytics tools and information at their disposal to lead strategic conversations about talent development, workforce planning and organizational design, so they would be wise to think about what data will be available, how it will look in the new system and how it can help inform and influence decisions.
Along those same lines, HCM SaaS will make information more available and accessible, so employees, managers and leaders in the business will no longer need to rely on an HR business partner to run a report and send it along. HR business partners will need to help leaders get used to the standardized report formats found in global HR systems and resist the urge to replicate the highly specific and tailored reports of old.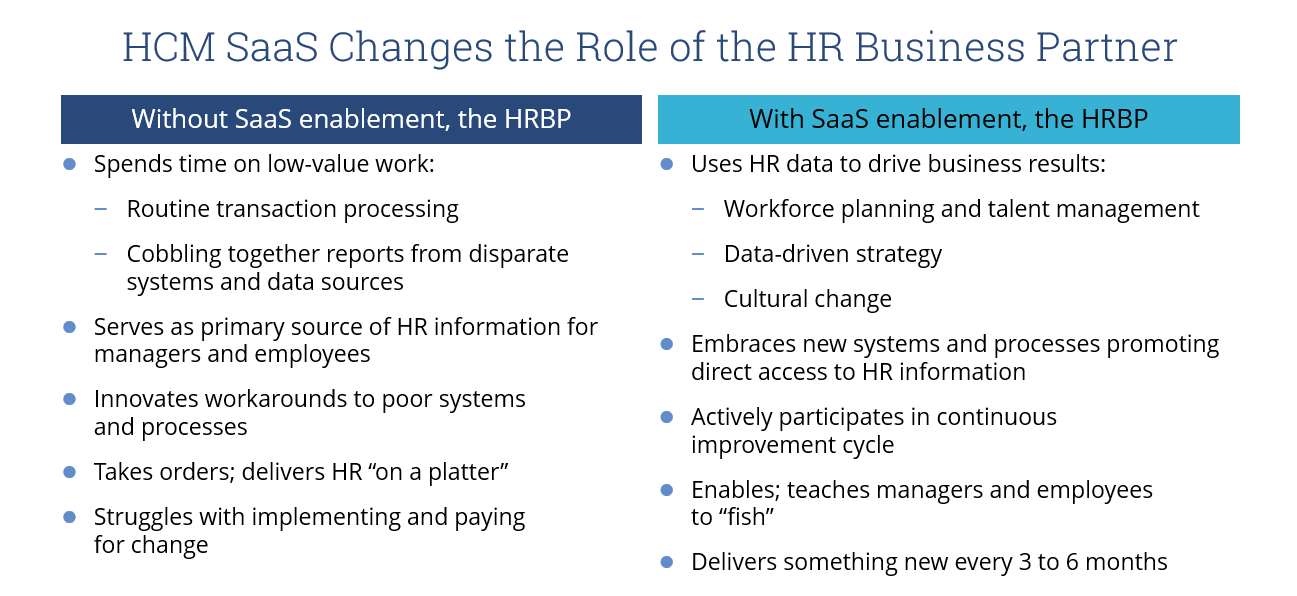 As you think about embarking on the journey to HCM SaaS, recognize that your HR business partners are the conduit to making the new technology real, helping the organization see the value in the changes and providing feedback from users at every level. Some investment will likely be required to train your HR business partners in a new way of digesting and delivering information, but any time and money invested in this area will ultimately provide value to the broader organization. The HR business partners that can let go of the old way of doing things and become champions of and experts in the new tools will be able to deliver powerful data, metrics and measures to support strategic business recommendations. By making your HR business partners an integral part of the SaaS journey, you will enable a successful organizational transformation.
ISG helps enterprises select and implement HR technology to ensure the greatest return on investment. Contact us to discuss how ISG can help you.