Last week at the ISG Sourcing Industry Conference, we conducted a real-time study with swarm technology provider Unanimous AI. We wanted to compare what IT and business services providers are thinking about RPA against what enterprise automation leaders told us at our automation event in New York a few months ago.
As we've discussed in the past, we use Unanimous AI to help develop "consensus" answers to important forward-looking statements. Think crowdsourcing using AI.
In this case, given that we were talking to service providers, we wanted to know what they think the consensus answer is for their clients – not inside their own companies (who are themselves grappling with the automation challenge in a big way). That way we could compare what enterprises want with what providers think their clients want. And, as an added twist, we didn't share what enterprises said before the swarm – we unveiled that at the end. And while many of the answers were consistent across both groups, some interesting ones were not.
Here's what we found:
When we asked providers "What's most important to ensure an automation strategy is successful?" providers felt that strong executive support was the best answer, agreeing with what enterprises told us a few months ago, as seen in the GIF below: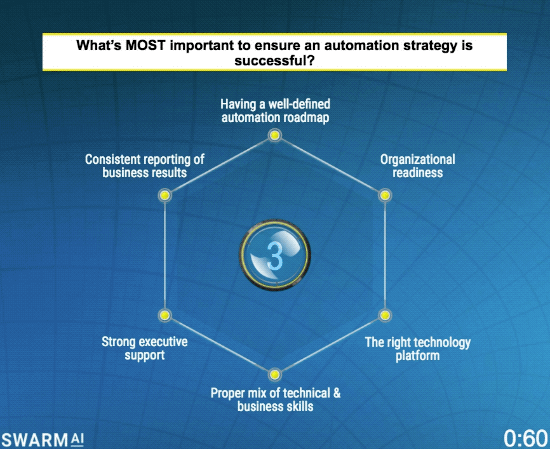 Source: ISG Research, Provider Opinions, n = 21
We then asked "What are the challenges to automation over the next three years?" Providers agreed that organizational resistance to change would be the biggest barrier to automation, again agreeing with enterprises.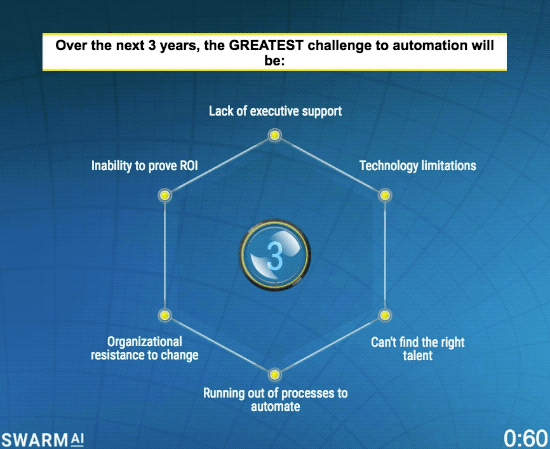 Source: ISG Research, Provider Opinions, n = 21
Then we asked providers about jobs, and gave them two possible responses. Providers agreed with enterprises that the primary goal over the next three years will be to automate people's tasks to improve productivity, not automate people's roles to reduce costs.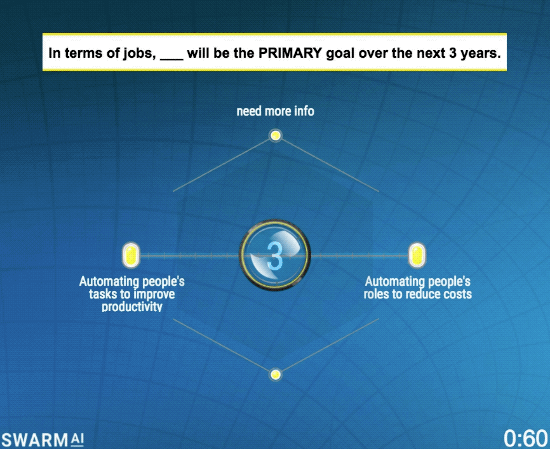 Source: ISG Research, Provider Opinions, n = 21
Now to the questions that elicited less agreement – and some outright disagreement.
When we asked providers "What was most important to enterprises when deciding which processes to automate?" we had a '"brain freeze" – this is when the group is unable to come up with a consensus answer, which is not uncommon when talking about the impact of emerging technology.
What's interesting here is not the "brain freeze" itself but how quickly enterprises came up with an answer when compared to providers. Enterprise leaders felt the number of hours returned to the business was the best answer – and was one of the strongest responses we received from enterprises leaders, measured by the "Brainpower" metric you see at the end of the replay.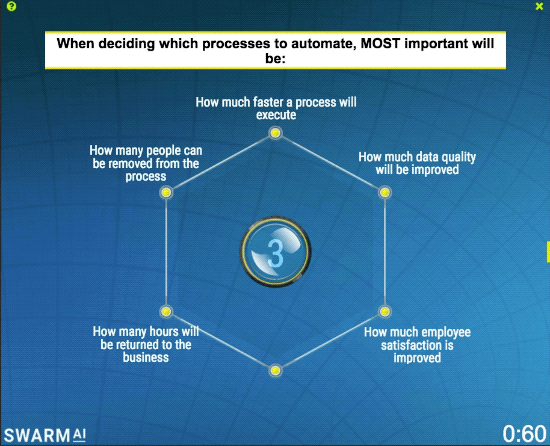 Source: ISG Research, Enterprise Opinions, n = 45
There was also a disconnect when it came to the question "What will be the most in-demand automation skills in 2019?" Providers felt that process identification and mapping skills would be most important, while enterprises felt cognitive / AI technology skills would be most important. Here's the providers' response: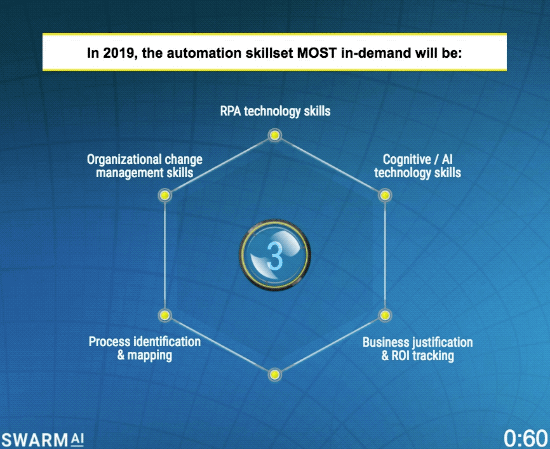 Source: ISG Research, Provider Opinions, n = 21
And, finally, we asked providers "What is the most common operating model for bots over the next three years? Will enterprises be most likely to build and support their own bots, outsource all of it, or use some combination of both?" This question produced another brain freeze, though it was a close call between outsourcing and in-house. This contrasts starkly to the way enterprises responded, which was to say that they will build and support bots themselves, as you can see here: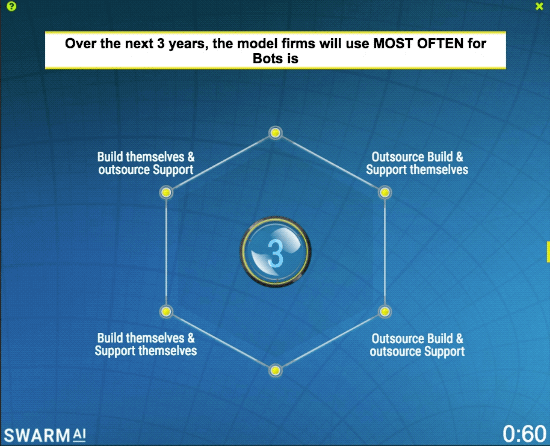 Source: ISG Research, Enterprise Opinions, n = 45
My point of view: it's likely providers are underestimating how quickly enterprises are adopting RPA while enterprises are overestimating the impact of cognitive/AI (in the near term) and underestimating the work associated with building a digital workforce. Areas like process identification, mapping and prioritization, organizational change management and basic RPA skills – areas that enterprises struggle with now – will become increasingly important over the next three years as companies look to launch and scale their digital workforce.