Following last year's ISG Automation Summit that focused on implementing and scaling robotic process automation (RPA), this year's event in London looked beyond RPA to cognitive automation and artificial intelligence (AI) as ways to deliver even greater value to organizations in all sectors. The event opened with a conversation between ISG's Steve Hall and Softbank Robotics talking robot Pepper. Steve and Pepper shared a few jokes and even some Gangnam-style dance moves!
Delivering a successful automation program at scale requires three core components:
Bot 3.0. A new study from ISG Insights finds that organizations that have achieved "Bot 3.0" – those whose automation initiatives are exceeding business expectations – practice four tenets by 1) assessing the impact of RPA on the organization, 2) using best practices in building and supporting bots, 3) understanding the enterprise technology portfolio and how cognitive fits into it and 4) using a governance framework that ensures an organization is getting the most of its automation investment.
Centers of Excellence. RPA vendors, service providers and implementing organizations agree that establishing an effective Center of Excellence (CoE) is crucial to meeting automation goals. It facilitates realizing the business case, deploying bots on time and within budget and expanding bots across the organization. As depicted in the figure below, the ISG Insights study also shows that, on average, Bot 3.0 companies develop their RPA CoE before they deploy their first bot, in contrast to Bot 1.0 and Bot 2.0 companies that, on average, launch their first bot before they develop their CoE.
Cognitive automation and AI. To extend the reach and value of RPA, enterprises must begin thinking about how they can take advantage of cognitive automation and AI. This is one thing technology vendors and implementation specialists agree on. Many attended the Automation Summit – including Microsoft, Wipro, Automation Anywhere and Tech Mahindra – and emphasized the importance of data and of starting with the business problem rather than the technology.
Center of Excellence: It's All in the Timing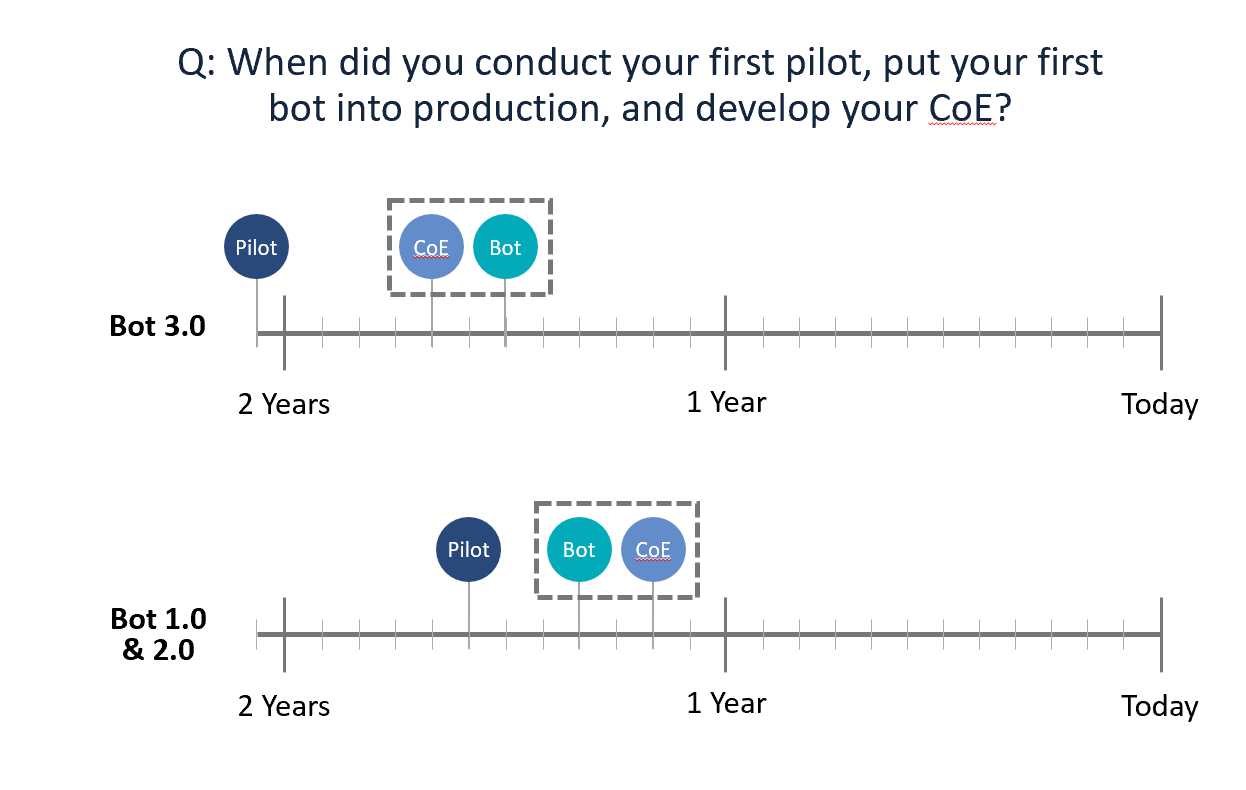 Source: ISG Insights 2018 Bot 3.0 Study, n=321
To top off the Automation Summit, several leading technology providers took up the gauntlet to compete in an automation hackathon challenge. Each vendor used their technology and expertise to automate an employee onboarding process, showing the array of different underlying technologies an organization now must choose from when considering their automation plans.
The ISG Automation Summit explored the art of the possible with discussions about automation, RPA, intelligent automation and artificial intelligence. The event left attendees with a great deal to consider as automation sweeps through their enterprises.
Associated Insights