One of the most common questions we hear from enterprises today: How does my RPA program compare to my peers? And, until now, there hasn't been a precise way to map an organization's automation capability – there has been no formal assessment framework to describe where a company is and what it needs to do to move forward. We're solving that problem. Our recent study Is Your RPA Program Bot 3.0 Ready? explores the typical automation adoption profile, the most common obstacles, the best practices for accelerating adoption, so companies can better understand where they stand and where they're going.
Rather than looking at the RPA technology itself or the use cases in which the technology is applied, in this study we're looking at RPA capability from the perspective of the enterprise, specifically, determining if and how companies are realizing business value from their automation investments.
Unique to this study is the range of inputs. We combined traditional primary research from more than 300 survey respondents with Swarm AI™ technology from Unanimous AI, and insights from our RPA advisory teams, who are helping some of the world's biggest and best companies build and scale their RPA programs. By combining and cross-referencing these findings, we've created something we believe is unique: primary research that is informed by actual practitioners.
We mapped the results of the study against a framework – in this case a "bot framework" – that enables us to compare company to company. At the top of the capability curve is the Bot 3.0 company. What makes a Bot 3.0 company? First, they're rare. Only seven percent of the companies we studied met the criteria, as you can see below. Second, they have successfully extended RPA into multiple functions, they have a mature center of excellence (CoE), and they are in production with cognitive technologies that are linked to at least one RPA use case. And finally, Bot 3.0 companies beat others on a qualitative assessment that includes more than 20 areas we believe to be critical to scaling an RPA program. These include RPA strategy, organization, best practices, technology and governance.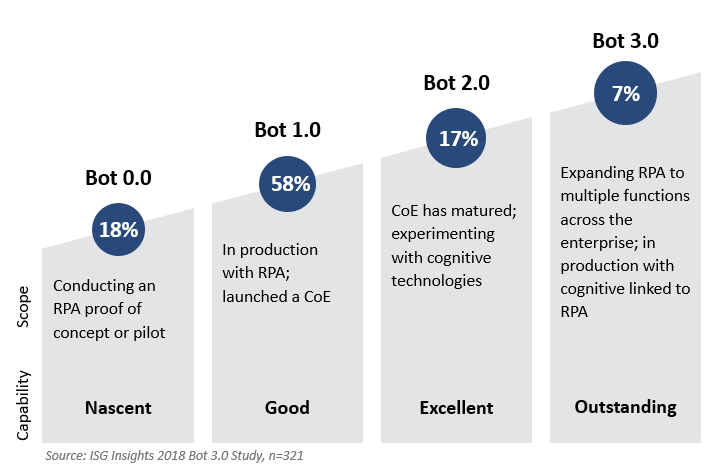 One of the most interesting findings to come out of the study is how Bot 3.0 companies look at RPA-related business goals. On average, companies that are just starting out with RPA (Bot 0.0 and 1.0 companies) prioritize cost savings as the primary business goal, and expect their automation initiatives to realize significant, double-digit savings. As companies move up our capability model, they begin to consider RPA less as a lever to reduce near-term costs or replace ITO or BPO services (which are almost always focused on near-term cost reduction) and more as a tool to avoid costs and improve productivity, data accuracy and compliance. In essence, Bot 3.0 companies are using RPA as a tool to help them grow and scale faster.
The full study reveals many more interesting findings about the current landscape of enterprise automation capability. Join my colleague Mark Davison, lead for ISG's Global RPA and Cognitive Automation practice, and I as we cover some the highlights of this exciting study next Tuesday, September 18, 1:00pm ET.
We hope you'll join us!