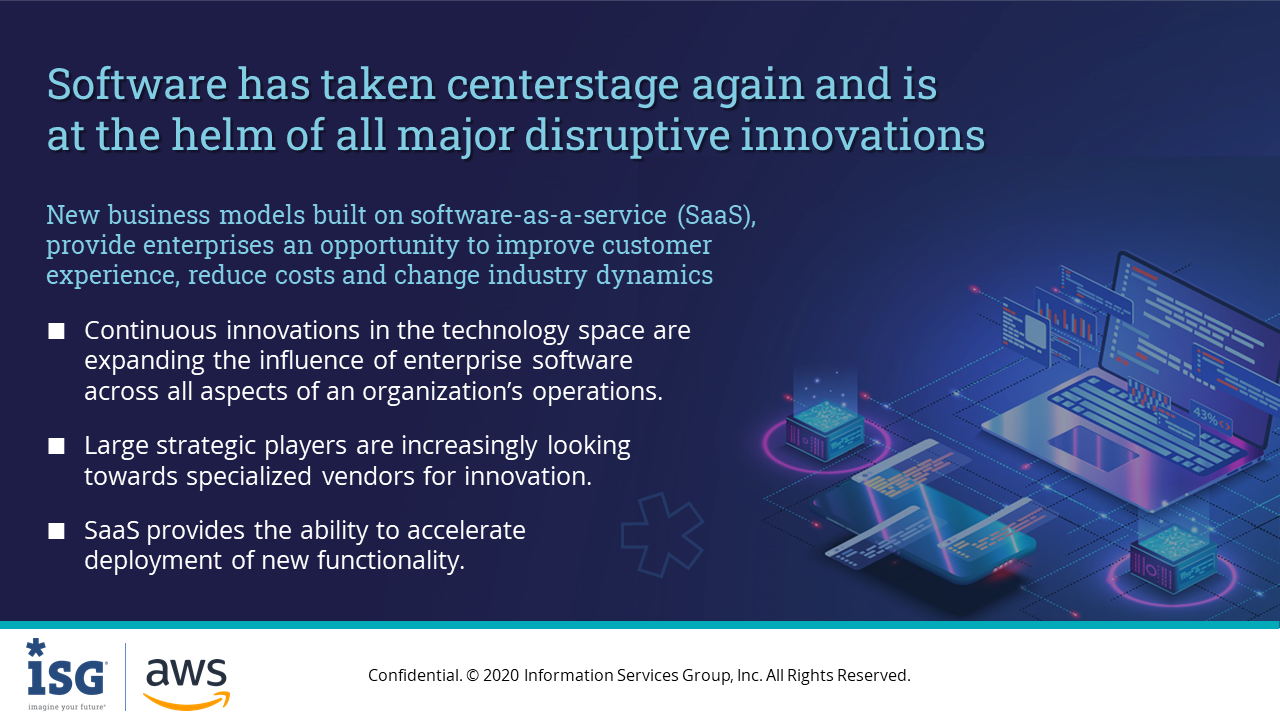 Software has taken centerstage again and is at the helm of all major disruptive innovations – a part of IoT, artificial intelligence (AI), cognitive or autonomous driving – thus giving enterprises the opportunity to improve customer experiences, reduce costs and change industry dynamics with new business models built on software-as-a-service (SaaS).
Changing business priorities are compelling enterprises to modify the way they procure software and encouraging them to explore beyond the offerings of established SaaS providers. With a plethora of emerging ISVs and innovative solutions available in the market, enterprises have more options to choose from.
But, at the same time, the following key questions persist:
What factors are leading to the rise in emerging ISVs?
Why should enterprises consider working with emerging ISVs?
What are the key factors enterprises should consider before working with an emerging ISV?
In this paper, we aim to address these questions based on a closer study including primary and secondary research of the emerging ISV segment and insights from enterprise discussions.
Download the research paper here.
About the authors
Namratha Dharshan is director and principal analyst for ISG. With nearly 16 years of experience working IT/BPO outsourcing research, Namratha has developed expertise in business processing outsourcing and is broadly focused on horizontals like F&A and Contact Center. Her research focuses specifically on the customer experience as it relates to digital transformation, omnichannel, analytics, AI and automation.
Aparna Gajanan is a senior manager and principal analyst. She has 13 years of experience researching and writing on the impact of digital transformation on customer experience, operations, people and culture. Her work has involved conducting in-depth research and data analysis focused on identifying future trends, key challenges and building business cases to develop differentiated frameworks that help clients profitably grow their businesses. At ISG she is responsible for authoring white papers focused on emerging trends in the sourcing industry, blockchain, the BFSI industry, and contact centers.