ISG Star of Excellence™ - Methodology
The Star of Excellence survey and all the related client experience are measured via six categories.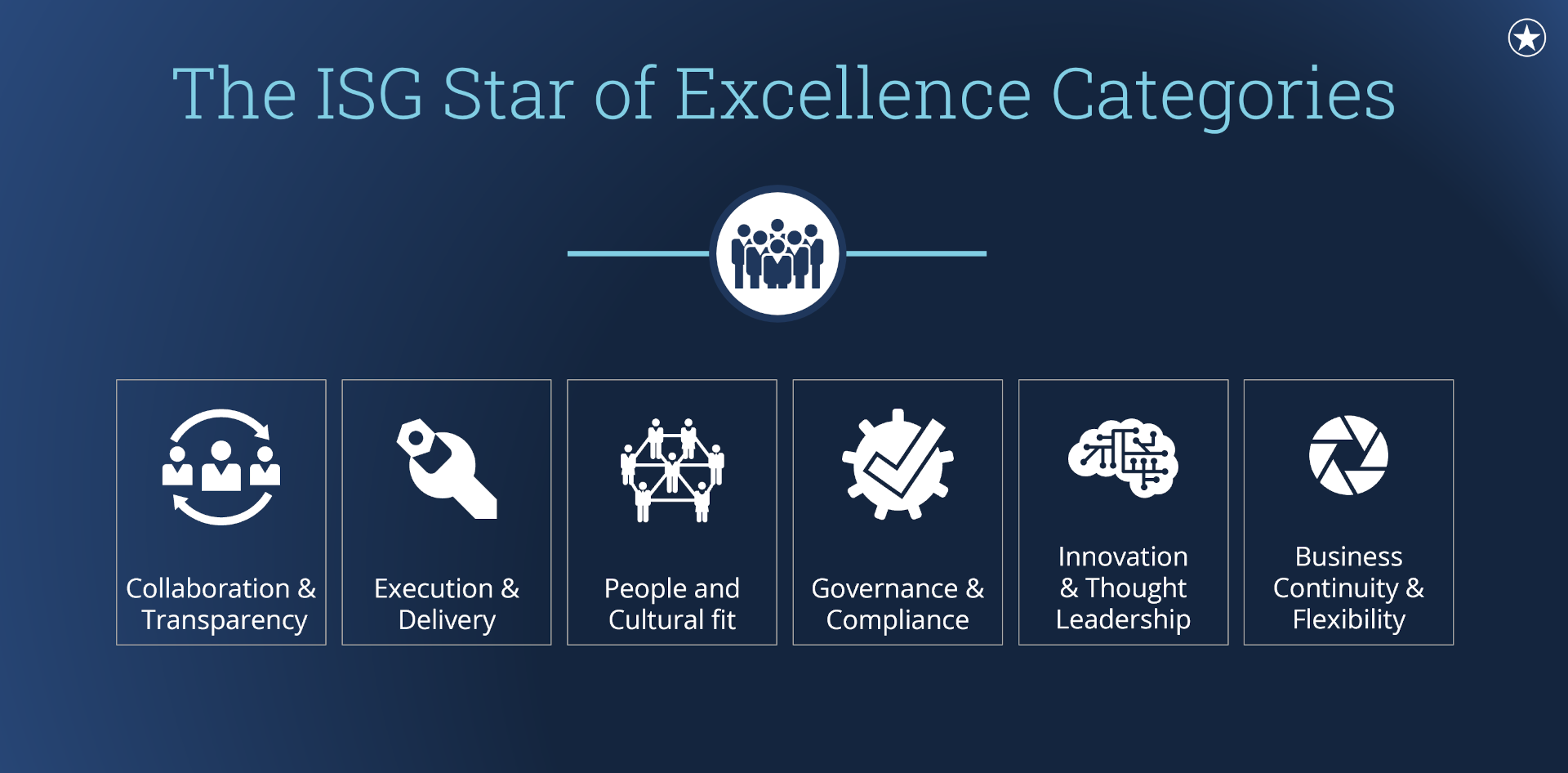 1. Collaboration & Transparency: The ability of a provider to be transparent in working with the customer as well as to collaborate efficient to understand, empathize and solve client's business problems.
2. Execution & Delivery: The ability of a provider to demonstrate capabilities in action towards delivering client value in time and quality.
3. Innovation & Thought Leadership: A reflection of good the sense for new trends is and how well a provider translates its industry and technical know-how to create unique business solutions for their clients.
4. Governance & Compliance: Preparedness and implementation of how well and compliant a provider manages the governance of the services during the overall client engagement.
5. People & Cultural fit: The aptitude, passion and attitude of service provider personnel that delivers the services to clients.
6. Business Continuity & Flexibility: The ability to deal with new challenges and offer flexible solutions to accompany customers even the times like the current pandemic.
The Program and survey clusters itself into the following research segments:
• Region
Delivery capabilities with excellent client experience on a country-level. The awards will aggregate regional experience in regions such as America, EMEA or APAC.
• Information Technology
Services such as (Next Gen) Application Development, (Cloud) Data Center Operations, Workplace Services, Managed Network Services, Data Analytics and others are the fundament for Information Technology Leaders.
• Industries (Business Process-related)
Client experience within consulting and managed service-segments for industries such as Manufacturing, Banking, Retail and other verticals.
• Emerging Technologies
Newest "Tech" disciplines such as AI, Blockchain or Cloud Native/Container services. The idea is to find provider that act as enabler and accelerator for the sustainable future but also can quickly adopt elements that define digital transformation and new ways of working.